LINKS: Rated and Reviewed
It has been a bit quiet and un-updated for quite a while now. But, over the last week AngelJ's finally got the site updated and packed full of Tomb Raider links and other useful info. Tomb Raider 2000 is a brilliant site with a classy design and surprisingly useful fan's content.


Well. What can I say? This site started life as an unknown page with a small selection of good Lara Croft pics. Now it has progressed to be one of the most visited Lara Croft & Tomb Raider sites, with a collection of pictures reaching "no less than 397". Looking for that pic of Lara in her bikini? Come here for a treat!!


Danish-owned Raider Distance is THE site to visit if you need the best TR info on the web. With huge pages of information, downloads and links it is the best site to start at, and offers more than the average Tomb Raider fan site.


Tales' has been a great way for me to continue my small hobby of fan fiction writing. I posted three stories a few years back, and I have slowly continued to write more stories to post here. If you are looking for the most up-to-date and biggest collection of fan fiction on the net, then this is the place to go.


Lara's Temple is most definately the Tomb Raider media site of the year or something along those lines. It has more downloads and sources of Tomb Raider media than any other site I have visited. It's superb content and attractiveness have gained it a well-earned rating.


The Croft Times is part of the gaming network 'ctimes.net', and is ONE of the best you will find about Tomb Raider and Lara Croft. It has probably the biggest and certainly best source of exclusive information, yet it somehow doesn't have the really fresh and modernised look of recenlty published sites such as Tomb Raider 2000.


Also part of the network 'ctimes.net', this site supposedly has the best collection of Lara Croft images on the net. But now, there are plenty Lara Croft Image sites on the web. This site is just the first and one of the best, but falls flat when its pages become tacky and tired. It also contains lots of other great info about Lara Croft and Tomb Raider - It's been worked hard on, deserves to be congratulated. Well done guys!


It's not often you get someone who actually makes a site about our favourite heroine, then wants to chain her up and gag her. "Why, you may ask, is our most exquisite Lara Croft enchained to the wall, struggling...trembling with fear?". The answer lies in the site itself which is full of wierd and wonderful pics and artwork from all over the net. From the bizarre to the fetish, this site is guaranteed to have you gagging for more...yet it somehow twists the mind enough to make you wanna close the window and search somewhere else. Orginal and interesting, Lara In Chains is well worth a visit.


Ratings:

Must-see...
Not to be missed...
Just worth the visit...
Don't bother...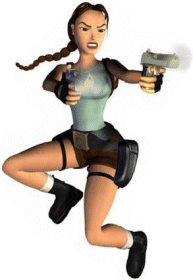 Can't see your site? If your site has not been Rated and Reviewed, mail me with your name, site URL and a brief description of your site.